1820, Great Britain, George III. Silver Crown (British Dollar) Coin. NGC AU-58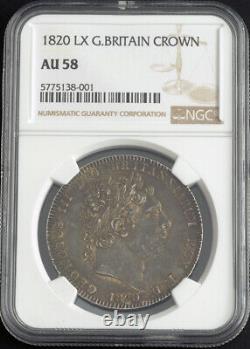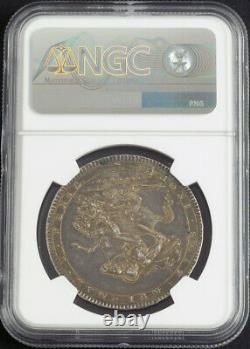 1820, Great Britain, George III. Silver Crown (British Dollar) Coin. Mint Year: 1820 Denomination: Crown (British Dollar) Condition. Certified and graded by NGC as AU-58! 925 Weight: 28.28gm Diameter: 37mm.
Obverse: Laureate head of George III right. Designer's signature (PISTRUCCI) below bust truncation. Legend: GEORGIUS III D:G BRITANNIARUM REX F: D: 1820.
Reverse: Pistrucci's Saint George on horse, wearing roman helmet and sword, slaying the dragon below. All within Order of the Garter as a border. Legend: HONI SOIT QUI MAL Y PENSE. Shame on him who thinks evil of it! Benedetto Pistrucci (May 29, 1783 September 16, 1855) was a talented engraver of gemstones, cameos, coins and medals.
Born in Italy, he moved to London in 1815 and was employed at the Royal Mint as an engraver, where his most famous work is his portrayal of St. George & the Dragon used on British gold sovereigns and crowns from 1817 to the present day.
" Honi soit qui mal y pense " is an Anglo-Norman phrase, loosely meaning: Shamed be he who thinks ill of it. " though more specifically "Evil unto him who thinks evil of it" Archaic spellings include "Honi soit quy mal y pense, " and "Hony soyt qe mal y pense, and various other phoneticizations.
It is the motto of the British chivalric Order of the Garter. In Modern French it is rendered as "Honni soit qui mal y pense" (the past participle of the modern verb honnir being honni). It is also written at the end of the manuscript Sir Gawain and the Green Knight but it appears to have been a later addition.
Its literal translation from Old French is Shame be to him who thinks evil of it. " It is sometimes re-interpreted as "Evil be to him who evil thinks. George III (George William Frederick; 4 June 1738 29 January 1820) was King of Great Britain and King of Ireland from 25 October 1760 until the union of these two countries on 1 January 1801, after which he was King of the United Kingdom of Great Britain and Ireland until his death. He was concurrently Duke of Brunswick-Lüneburg and prince-elector of Hanover in the Holy Roman Empire until his promotion to King of Hanover on 12 October 1814.
He was the third British monarch of the House of Hanover, but unlike his two predecessors he was born in Britain and spoke English as his first language. Despite his long life, he never visited Hanover. George III's long reign was marked by a series of military conflicts involving his kingdoms, much of the rest of Europe, and places further afield in Africa, the Americas and Asia. Early in his reign, Great Britain defeated France in the Seven Years' War, becoming the dominant European power in North America and India.
However, many of its American colonies were soon lost in the American Revolutionary War, which led to the establishment of the United States. A series of wars against revolutionary and Napoleonic France, over a twenty-year period, finally concluded in the defeat of Napoleon in 1815. In the latter half of his life, George III suffered from recurrent and, eventually, permanent mental illness. Medical practitioners were baffled by this at the time, although it is now generally thought that he suffered from the blood disease porphyria.
After a final relapse in 1810, a regency was established, and George III's eldest son, George, Prince of Wales, ruled as Prince Regent. On George III's death, the Prince Regent succeeded his father as George IV. Historical analysis of George III's life has gone through a "kaleidoscope of changing views" which have depended heavily on the prejudices of his biographers and the sources available to them.
The item "1820, Great Britain, George III. Silver Crown (British Dollar) Coin. NGC AU-58" is in sale since Wednesday, May 13, 2020. This item is in the category "Coins & Paper Money\Coins\ World\Europe\UK (Great Britain)\Crown". The seller is "coinworldtv" and is located in Wien.
This item can be shipped worldwide.
Composition: Silver
Certification: NGC
Denomination: Crown
Grade: AU 58
Year: 1820

---