1934 CHINA Republic Founder SUN YAT-SEN Junk TRADE Dollar Silver Coin NGC i79711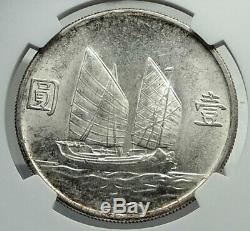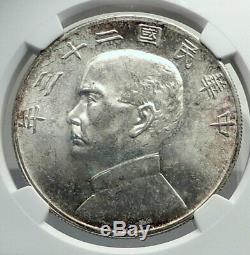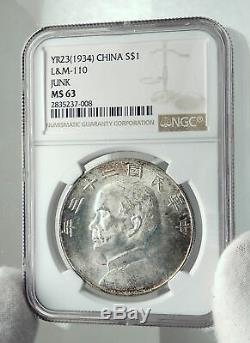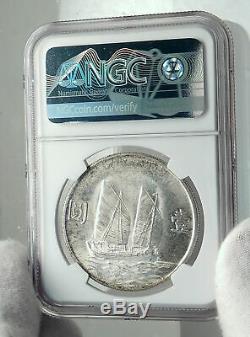 Item: i79711 Authentic Coin of. Republic 1934 Sun Yat-sen "Junk" Dollar / 1 Yuan Year 23 (1934) 39mm (26.73 grams) 0.900 Silver 0.7734 oz. ASW Reference: Y# 345; L&M-110 Certification: NGC. MS 63 2835237-008 , Sun Yat-sen. After having been introduced to China in the 16th century, the Spanish-American eight reales "silver dollar" coin became very popular. These coin types had a monopoly until these countries started striking their own Trade Dollars in the late 19th century.
Sun Yat-sen (12 November 1866 - 12 March 1925) was a Chinese physician, writer, philosopher, calligrapher and revolutionary, the first president and founding father of the Republic of China. As the foremost pioneer and first leader of a Republican China, Sun is referred to as the "Father of the Nation" in the Republic of China (ROC) and the "forerunner of democratic revolution" in the People's Republic of China (PRC).
Sun played an instrumental role in the overthrow of the Qing dynasty (the last imperial dynasty of China) during the years leading up to the Xinhai Revolution. He was appointed to serve as Provisional President of the Republic of China when it was founded in 1912. He later co-founded the Kuomintang (Nationalist Party of China), serving as its first leader. Sun was a uniting figure in post-Imperial China, and he remains unique among 20th-century Chinese politicians for being widely revered amongst the people from both sides of the Taiwan Strait.
Although Sun is considered to be one of the greatest leaders of modern China, his political life was one of constant struggle and frequent exile. After the success of the revolution and the Han Chinese regaining power after 268 years of Qing dynasty rule, he quickly resigned from his post as President of the newly founded Republic of China to Yuan Shikai, and led successive revolutionary governments as a challenge to the warlords who controlled much of the nation. Sun did not live to see his party consolidate its power over the country during the Northern Expedition. His party, which formed a fragile alliance with the Communists, split into two factions after his death.
Sun's chief legacy resides in his developing of the political philosophy known as the Three Principles of the People: nationalism (Han Chinese nationalism: independence from imperialist domination - taking back power from the Manchurian Qing dynasty), democracy, and the people's livelihood (just society). They evolved in the later dynasties, and were used throughout Asia for extensive ocean voyages. They were found, and in lesser numbers are still found, throughout South-East Asia and India, but primarily in China.
Found more broadly today is a growing number of modern recreational junk-rigged sailboats. The term junk may be used to cover many kinds of boat-ocean-going, cargo-carrying, pleasure boats, live-aboards. They vary greatly in size and there are significant regional variations in the type of rig, however they all employ fully battened sails. World-renowned expert numismatist, enthusiast, author and dealer in authentic ancient Greek, ancient Roman, ancient Byzantine, world coins & more. Ilya Zlobin is an independent individual who has a passion for coin collecting, research and understanding the importance of the historical context and significance all coins and objects represent.
Send me a message about this and I can update your invoice should you want this method. Getting your order to you, quickly and securely is a top priority and is taken seriously here.
Great care is taken in packaging and mailing every item securely and quickly. What is a certificate of authenticity and what guarantees do you give that the item is authentic? You will be very happy with what you get with the COA; a professional presentation of the coin, with all of the relevant information and a picture of the coin you saw in the listing. Additionally, the coin is inside it's own protective coin flip (holder), with a 2x2 inch description of the coin matching the individual number on the COA. Whether your goal is to collect or give the item as a gift, coins presented like this could be more prized and valued higher than items that were not given such care and attention to.
When should I leave feedback? Please don't leave any negative feedbacks, as it happens sometimes that people rush to leave feedback before letting sufficient time for their order to arrive. The matter of fact is that any issues can be resolved, as reputation is most important to me. My goal is to provide superior products and quality of service. How and where do I learn more about collecting ancient coins? Visit the Guide on How to Use My Store. For on an overview about using my store, with additional information and links to all other parts of my store which may include educational information on topics you are looking for. The item "1934 CHINA Republic Founder SUN YAT-SEN Junk TRADE Dollar Silver Coin NGC i79711" is in sale since Tuesday, August 27, 2019. This item is in the category "Coins & Paper Money\Coins\ World\Asia\China\Empire (up to 1948)". The seller is "highrating_lowprice" and is located in Rego Park, New York. This item can be shipped worldwide.
Country/Region of Manufacture: China
Certification Number: 2835237-008
Certification: NGC
Grade: MS 63
Year: 1934
Circulated/Uncirculated: Uncirculated
Composition: Silver

---