2017 Canada 1 oz Silver $25 Dragon UHR NGC PF-70 Ultra Cameo SKU#277565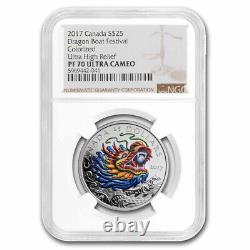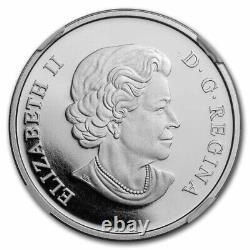 Photos in this listing may or may not be stock photos. The photos are meant to be an indication of the product you will receive. NGC encapsulation guarantees and protects the PF-70 condition of the coin. Limited mintage of 6,000 coins. Obverse: The likeness of Queen Elizabeth II.
Reverse: Features a bold, colorful dragon in ultra-high relief engraving. Guaranteed by the Royal Canadian Mint. Protect your product from fingerprints by adding these cotton gloves. The reverse design by Canadian artist Simon Ng offers an artistic tribute to Dragon Boat Festival through the skillful fusion of ancient symbolism, traditional art elements and modern minting techniques. The lower portion of the coin is dominated by foam-tipped waves, an auspicious pattern that also adds a sense of motion to the design.
In fact, curved lines are present throughout this water-themed design, including the dragon's mane that evokes the sensation of wind and movement. Engraved in ultra-high relief for added depth and dimension, the serpentine spirit emerges from the water in a way that mimics the shape of a dragon boat, with its neck curved like a boat's gunwale.
The dragon's features are resplendent in colorful hues of red, Gold, green and blue, culminating in the blue pearl held tight in its jaw as a symbol of wisdom, and the active yang aspect of qi, the life force that surrounds us. This is not a photo of the actual item.
1,359 Item as described. Rec'd item, looking forward to doing business with again.

---