2021 2 coin reverse proof silver eagle design set w T1 and s T2 ngc rp 69 fdoi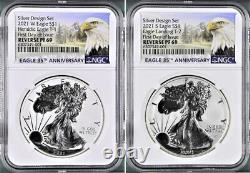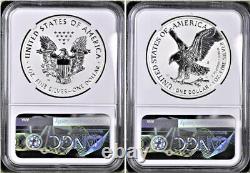 2021 2 COIN REVERSE PROOF SILVER EAGLE DESIGN SET. 35TH ANNIVERSARY - W MINT TYPE 1, S MINT TYPE 2. NGC REVERSE PF69, FIRST DAY OF ISSUE. 2021 2 Coin Reverse Proof American Silver Eagle Design Set (TYPE 1 - W Mint and TYPE 2 - S Mint). NGC Reverse PF 69, First Day of Issue with the special 35th anniversary eagle/mountain Label from NGC.
After 35 years the US Mint released this set in commemoration of the last year of the Old Design and the 1st year of the New Design for the Silver Eagles. Here will only be 125,000 of these minted. Additionally, the US Mint has imposed a household order limit of 1 set. Get your coin today as prices are certain to skyrocket on these. The photos for this listing are file photos.
The coins you receive will be similar to what is shown in the photo, but will have unique NGC certification number.

---