2022 5 oz Silver Hera and the Peacock MS-70 NGC (FDI) SKU#257055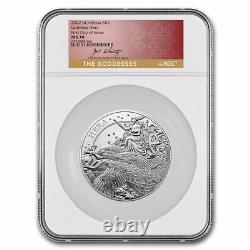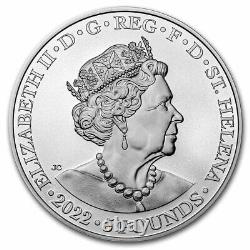 2022 5 oz Silver Hera and the Peacock MS-70 NGC (FDI) - SKU#257055. Photos in this listing may or may not be stock photos. The photos are meant to be an indication of the product you will receive. Limited mintage of 1,000 coins, with only a limited quantity available in this MS-70 First Day of Issue certified packaging. Coin is encapsulated in an NGC slab, certifying the MS-70 grade of the coin.
Also included is an exclusive Goddesses label, signed by the coin designer, Joel Iskowitz. Obverse: Showcases a portrait of Queen Elizabeth II, date, and face value. Reverse: Depicts Hera riding in a chariot pulled by peacocks. Her hair is flowing in the wind as they sail through the clouds with one hand holding the reins and the other stretched out and pointing a scepter, denoting her role as queen. A pet peacock sits perched next to her.
Protect your product from fingerprints by adding these cotton gloves. Start collecting this exciting new APMEXclusive® series by adding this 5 oz Silver Hera and the Peacock MS-70 NGC First Day of Issue coin to your cart today. Learn more about The Goddesses series here. Hera and the Peacock Hera was the sister and wife of Zeus, and she was revered as the goddess of lawful marriage, family, and childbirth. She was also regarded as the protector of women and children.
She was revered in Greece and had temples built to her in Argos and Salmos. Her husband Zeus had numerous affairs, which made her furious and vengeful toward him and his mistresses, and her fury became as famous as her beauty among both mortals and immortals. The cuckoo and peacock are linked to her, and in ancient Roman religion, she was known as Juno. Since the Renaissance, Hera has been portrayed riding in a chariot driven by peacocks, cementing the relationship.
Hera became enraged with Zeus for having fallen in love with one of her priestesses, Io, according to Ovid. Hera made Io into a cow and gave her to Argus, her all-seeing giant with 100 eyes, to watch over her. To save her, Zeus sent Hermes to kill Argus. Before Hermes could hypnotize and murder Argus, Hera snipped off a hundred eyes from the beast's body and implanted them on the tail of a peacock, who became her loyal servant.
APMEX is pleased to introduce our new APMEXclusive® series from the East India Company: The Goddesses Series. This newest collection was designed by Joel Iskowitz and will examine the relevance of goddesses from ancient Greek and Norse mythology to contemporary civilizations. The myths surrounding each mythical character continue to teach and convey important messages, which is why these stories are still re-told today.
This is not a photo of the actual item. 1,359 Item as described. Rec'd item, looking forward to doing business with again.

---