2022 Niue 1 oz Silver Icons of Inspiration Einstein MS-70 NGC SKU#247543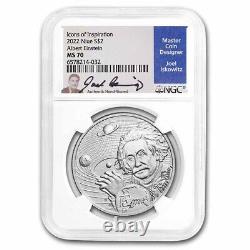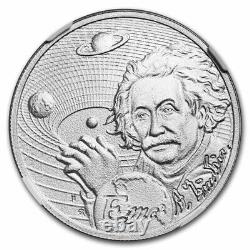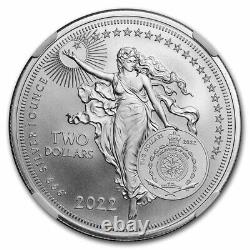 2022 Niue 1 oz Silver Icons of Inspiration: Einstein MS-70 NGC - SKU#247543. Photos in this listing may or may not be stock photos.
The photos are meant to be an indication of the product you will receive. Fourth release in an APMEXclusive. Graded a perfect MS-70 by NGC. Limited mintage of 10,000 coins, delivered in an enhanced BU satin finish. Obverse: Features Albert Einstein looking thoughtful at the viewer. His signature and the iconic physics formula E=mc2 are depicted beneath him. Different planets and a grid-like design that mimics the shape of a black hole are shown in the background. Reverse: Displays an elegant muse with an outstretched hand pointing toward the sun and her other hand placed on the Niue nation's seal. The year and denomination are also shown.
Coin designs created by famed coin designer Joel Iskowitz. Protect your graded Icons of Inspiration series Silver coin, in addition to your other special coins, securely in a home safe.
Pay homage to one of the most famous scientists of all time-Albert Einstein. Add this 1 oz Silver Icons of Inspiration: Albert Einstein MS-70 NGC to your collection today! Icons of Inspiration: Albert Einstein The fourth installment of Icons of Inspiration.
Profiles Albert Einstein, who is widely considered to be one of the most significant physicists in history. He is renowned for first predicting black holes, developing the theory of relativity, and making significant contributions to the development of quantum mechanics through his explanation of the photoelectric effect and hypothesis of light quanta. His work in theoretical physics, including relativity and quantum theory, significantly influenced science and philosophy.
He was given the Nobel Prize in Physics in 1921 for his research in theoretical physics. The German-born scientist was against Adolf Hitler due to his pacifistic attitude and Jewish heritage. He also joined other renowned researchers in writing a letter to President Franklin D. Roosevelt, informing him that the Germans were developing nuclear weapons and urging him to begin researching them.
But he strongly disputed the notion of using nuclear weapons in battle, despite his concerns that the Nazis would if they had them. His intellect, inquisitiveness, humor and compassion for others are all testimonies to his legacy. The fields of science and mathematics wouldn't be where they are today if it weren't for his contributions.
This is not a photo of the actual item. 1,359 Item as described. Rec'd item, looking forward to doing business with again.

---