2023 $1 5 X -1-oz Silver Eagle NGC MS70 First Releases Eagle Exquisite Coin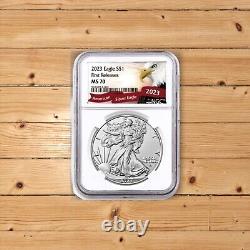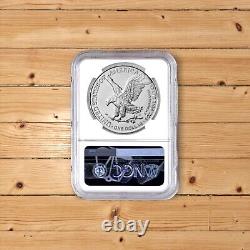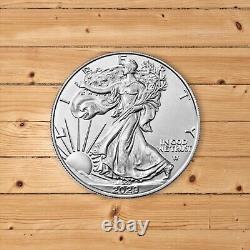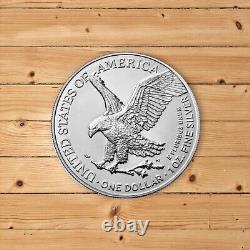 Lot Of 5 Coin Lot You Will Receive? 37 Years Of Stunning Silver Soars Into 2023! Not only are American Silver Eagles stunning coins recognized around the world for their grace and beauty, they're also the official silver coin of the United States. First released in 1986, the American Silver Eagle is one of the world's leading silver bullion coins and is among the most popular annual releases with stackers and collectors around the world. The coin's popularity soared to even greater heights in 2021 thanks to its first design change in the coin's history. That new design is back for 2023, ready to spread its wings into collections around the world! America's Most Iconic Symbols. This stunning silver coin is an American icon, proudly displaying the nation's most popular symbols. It starts with the famous image designed by American Sculptor Adolph Weinman for the Walking Liberty Half Dollar that was struck from 1916 to 1947. It features Lady Liberty striding proudly forward, her body draped in an American flag, as a new day dawns. The coin's reverse is the work of Artistic Infusion Program (AIP) artist Emily Damstra and was sculpted by Mint Medallic Artist Michael Gaudioso.
It displays a full image of a Bald Eagle coming in for a landing with an oak branch held in its talons as if to add to its nest. Perfect Eagles From Among The First Issued.
Here you can secure the 2023 Silver Eagle struck in a full ounce of highly pure 99.9% fine silver. Collectors seek out these coins because they are produced with new dies and considered to have sharper strikes and deeper mirrors than those that are struck later. Each will come sonically sealed in an acrylic holder with a white display core and encapsulated with an exclusive Eagle label.
Silver Bullion Coins Are Not Available To The General Public. But don't wait too long-this popular series is a perennial hit with collectors and silver stackers bugs. Make these Silver Eagles part of your collection today! WEINMAN'S CLASSIC WALKING LIBERTY.
Weinman's iconic Walking Liberty design first made its debut on the 1916 half dollar, lasting three decades before bowing out in 1947. In 1986, this iconic image was reborn for the Silver Eagle with her exquisitely detailed beauty remaining on the coin ever since.
PAIRED WITH EMILY DAMSTRA'S ALIGHTING EAGLE! - This coin's full bodied Bald Eagle coming in for a landing was created by designer Emily Damstra.
EXPERTLY STRUCK IN HIGHLY PURE SILVER - The craftspeople of the U. Mint are known around the world for their skill and attention to detail. It's this talent that transforms each one-ounce planchet of 99.9% fine silver into a beautiful piece of numismatic art. UNITED STATES LEGAL TENDER - Each 2023 Silver Eagle bullion coin is one dollar United States of America legal tender, as seen on the coin's reverse. KEY FIRST RELEASES CERTIFICATION - NGC has certified that your Silver Eagle is a First Releases (FR) coin, independent authentication that your coin was released by the mint during the premier day of the series' issue. It will come in an acrylic holder with a white display core and an exclusive Eagle label. Silver Eagles like these are perennial favorites, usually flying out of our vaults as soon as they arrive! Whether you're new to the series, a diehard collector or a silver stacker looking to add to your reserve, this is your chance to secure these 2023 Silver Eagles for your very own. Don't wait-order yours today!
Thanks for stopping by please come again. Your satisfaction is 100% guaranteed. Please No Feed Back To Allow Time To Process Your Return. Thanks For The Opportunity To Serve You.

---