2023 $1 PEACE & MORGAN DOLLARS NGC MS70 (2) COIN SET THOMAS URAM SIGNED PreSale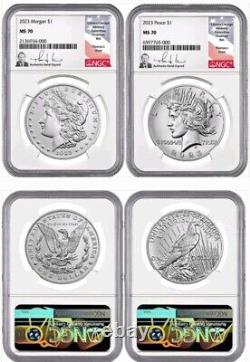 2023 (P) MORGAN & PEACE DOLLARS. THOMAS URAM WAS APPOINTED TO THE.
UNITED STATES MINT's CITIZENS COINAGE. THE ADVISERY COMMITTEE IS THE DIRECT LINK BETWEEN THE ANA AND THE US MINT. IT WAS URAM WHO WENT TO MINT DIRECTOR DAVID RYDER WITH THE IDEA OF AND ALONG WOTH RYDER HELPED WITH GETTING PASS THE 1921 SILVER DOLLAR COIN ANNIVERSARY ACT, WHICH AUTHORIZED THE MINTING OF THE 2021 MORGAN AND PEACE.
AFTER THE RELEASE OF THE 2021. 100TH ANNIVERSARY (6) COIN SET OF THE.
1921 MORGAN TO PEACE DOLLARS. THE US MINT DECIDED TO MINT.
HOWEVER, LAST YEAR DUE TO. THE COINS DID NOT GET MINTED. THE COINS ARE BEING MINTED THIS YEAR. IN UNCIRCULATED FINISH AT THE. A PROOF SET WILL BE MINTED.
AT THE SAN FRANCISCO MINT. AND, A (2) COIN REVERSE PROOF SET MINTED. DUE TO THE VOLITILITY IN THE SUPPLY AND.
COMMERCIAL DEMAND OF SILVER IT IS GOING. TO BE A YEAR TO YEAR DECISION SINCE. AMERICAN EAGLES WILL ALWAYS HAVE PRIORITY FOR THE AVAILABLE SUPPLY OF SILVER.
THIS IS A PRE-SALE LISTING. WITH THIS BEING A PRE-SALE LISTING.

---