ATHENS Attica Greece Athena Owl Tetradrachm Ancient Silver Greek Coin NGC i59986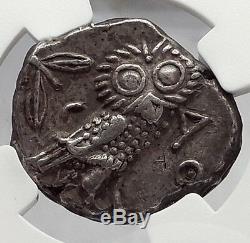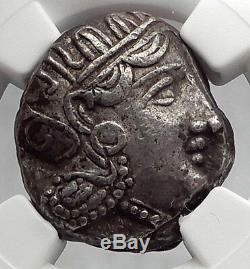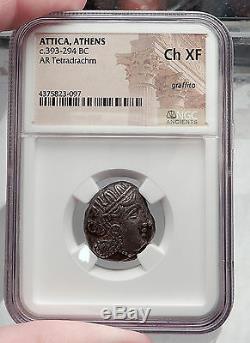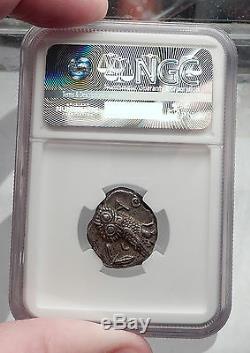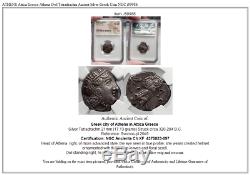 Item: i59986 Authentic Ancient Coin of. Greek city of Athens in Attica Greece Silver Tetradrachm 21mm (17.13 grams) Struck circa 320-294 B. 20#5 Certification: NGC Ancients Ch XF 4375823-097 Head of Athena right, of more advanced style, the eye seen in true profile; she wears crested helmet ornamented with three olive-leaves and floral scroll. Owl standing right, head facing; to right A E; to left, olive-twig and crescent.
, also referred to as Pallas Athena , is the goddess of war, civilization, wisdom, strength, strategy, crafts, justice and skill in. Athena's Roman incarnation, embodies similar attributes. Athena is also a shrewd companion of. On the Acropolis of her namesake city, Athens, in her honour (Athena Parthenos). Athena's cult as the patron of Athens seems to have existed from the earliest times and was so persistent that archaic myths about her were recast to adapt to cultural changes. In her role as a protector of the city. , many people throughout the Greek world worshiped Athena as Athena Polias ("Athena of the city").
And Athena bear etymologically connected names. I n Greek mythology , a Little Owl baby (Athene noctua) traditionally represents or accompanies Athena , the virgin goddess of wisdom, or Minerva , her syncretic incarnation in Roman mythology. Because of such association, the bird often referred to as the " owl of Athena " or the " owl of Minerva " has been used as a symbol of knowledge, wisdom, perspicacity and erudition throughout the Western world. Some authors believe that, in early times, Athena was either an owl herself or a bird goddess in general: In the third Book of the Odyssey , she takes the form of a sea-eagle.
These authors argue that she dropped her prophylactic owl-mask before she lost her wings. Athena, by the time she appears in art, Jane Ellen Harrison had remarked, has completely shed her animal form, has reduced the shapes she once wore of snake and bird to attributes, but occasionally in black-figure vase-paintings she still appears with wings.
The modern West generally associates owls with wisdom. This link goes back at least as far as Ancient Greece , where Athens , noted for art and scholarship, and Athena , Athens' patron goddess and the goddess of wisdom, had the owl as a symbol. Marija Gimbutas traces veneration of the owl as a goddess, among other birds, to the culture of Old Europe , long pre-dating Indo-European cultures. Owls , birds of the order Strigiformes , include about 200 species of mostly solitary and nocturnal birds of prey typified by an upright stance, a large, broad head, binocular vision and binaural hearing, and feathers adapted for silent flight.
Exceptions include the diurnal northern hawk-owl and the gregarious burrowing owl. Owls hunt mostly small mammals , insects , and other birds, although a few species specialize in hunting fish. They are found in all regions of the Earth except Antarctica and some remote islands. Owls are divided into two families : the true owls , Strigidae; and the barn-owls , Tytonidae.
Athens , the capital and largest city of Greece , dominates the Attica periphery; as one of the world's oldest cities , its recorded history spans around 3,400 years. The Greek capital has a population of 745,514 (in 2001) within its administrative limits and a land area of 39 km. The urban area of Athens extends beyond the administrative city limits with a population of 3,130,841 (in 2001) and a land area of 412 km. According to Eurostat , the Athens Larger Urban Zone (LUZ) is the 7th most populous LUZ in the European Union (the 5th most populous capital city of the EU) with a population of 4,013,368 (in 2004).
A bustling and cosmopolitan metropolis, Athens is central to economic, financial, industrial, political and cultural life in Greece and it is rated as an alpha- world city. It is rapidly becoming a leading business centre in the European Union. In 2008, Athens was ranked the world's 32nd richest city by purchasing power and the 25th most expensive in a UBS study. Classical Athens was a powerful city-state. A centre for the arts, learning and philosophy , home of Plato's Academy and Aristotle's Lyceum , Athens was also the birthplace of Socrates , Pericles , Sophocles and its many other prominent philosophers, writers and politicians of the ancient world. It is widely referred to as the cradle of Western civilization and the birthplace of democracy , largely due to the impact of its cultural and political achievements during the 5th and 4th centuries BC on the rest of the then known European continent. The heritage of the classical era is still evident in the city, represented by a number of ancient monuments and works of art, the most famous of all being the Parthenon on the Acropolis , widely considered a key landmark of early Western civilization.
The city also retains a vast variety of Roman and Byzantine monuments, as well as a smaller number of remaining Ottoman monuments projecting the city's long history across the centuries. Landmarks of the modern era are also present, dating back to 1830 (the establishment of the independent Greek state), and taking in the Hellenic Parliament (19th century) and the Athens Trilogy consisting of the National Library of Greece , the Athens University and the Academy of Athens.
Athens was the host city of the first modern-day Olympic Games in 1896, and 108 years later it welcomed home the 2004 Summer Olympics. Acropolis of Athens with the Parthenon on top.
Ilya Zlobin, world-renowned expert numismatist, enthusiast, author and dealer in authentic ancient Greek, ancient Roman, ancient Byzantine, world coins & more. Ilya Zlobin is an independent individual who has a passion for coin collecting, research and understanding the importance of the historical context and significance all coins and objects represent. Send me a message about this and I can update your invoice should you want this method. Getting your order to you, quickly and securely is a top priority and is taken seriously here.
Great care is taken in packaging and mailing every item securely and quickly. What is a certificate of authenticity and what guarantees do you give that the item is authentic? You will be very happy with what you get with the COA; a professional presentation of the coin, with all of the relevant information and a picture of the coin you saw in the listing. Additionally, the coin is inside it's own protective coin flip (holder), with a 2x2 inch description of the coin matching the individual number on the COA.
Whether your goal is to collect or give the item as a gift, coins presented like this could be more prized and valued higher than items that were not given such care and attention to. Is there a number I can call you with questions about my order?
When should I leave feedback? Please don't leave any negative feedbacks, as it happens sometimes that people rush to leave feedback before letting sufficient time for their order to arrive. The matter of fact is that any issues can be resolved, as reputation is most important to me. My goal is to provide superior products and quality of service. How and where do I learn more about collecting ancient coins?
Visit the "Guide on How to Use My Store" for on an overview about using my store, with additional information and links to all other parts of my store which may include educational information on topics you are looking for. You may also want to do a YouTube search for the term "ancient coin collecting" for educational videos on this topic.
The item "ATHENS Attica Greece Athena Owl Tetradrachm Ancient Silver Greek Coin NGC i59986" is in sale since Tuesday, March 14, 2017. This item is in the category "Coins & Paper Money\Coins\ Ancient\Greek (450 BC-100 AD)". The seller is "highrating_lowprice" and is located in Rego Park, New York.
This item can be shipped worldwide.
Grade: Ch XF
Certification: NGC
Certification Number: 4375823-097
Composition: Silver
Denomination: Tetradrachm
Culture: Greek
Material: Silver
Coin Type: Ancient
Geographic Origin: Ancient Greece
Era: Ancient Greece

---