BYBLOS Phoenicia 400BC Silver Shekel Authentic Ancient Greek Coin NGC AU i66895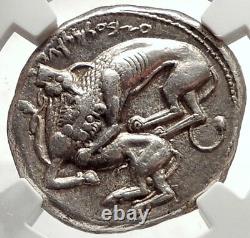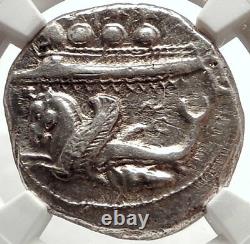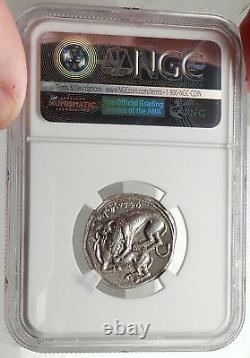 Item: i66895 Authentic Ancient Coin of. Ozbaal or Azbaal King circa 400-340 B. Silver Shekel 23mm (13.19 grams) Reference: SNG Copenhagen 132; HGC 10, 133 Certification: NGC Ancients.
AU Strike: 4/5 Surface: 5/5 4625114-006 War galley proceeding left with prow terminating in lion's head, containing three hoplites with crested helmets and round shields, on zigzag line of waves; below, Phoenician inscription OZ above back of hippocamp left, murex shell below. Phoenician inscription'ZBL' MLK GBL, lion left attacking bull.
Byblos was the Greek name given to the northern Phoenician city of Gebal, which has been considered one of the oldest continuously inhabited cities in the world. The city was ruled by a local dynasty of kings who were often vassals of the great Near Eastern powers of Egypt, Assyria, and Persia. This shekel was struck by the obscure Byblian king'Ozba'al under Persian domination.
The obverse advertises the naval power of the city by depicting one of its galleys carrying warriors. Indeed, the terrifying power of the Persian fleet was largely due to the ships and sailors drawn from Phoenician cities like Byblos. The scene of the lion attacking a bull on the reverse and other variations on this animal fight theme were a commonplace of Near Eastern and especially Persian decorative art. Byblos , in Arabic Jubayl , is a Mediterranean city in the Mount Lebanon Governorate, Lebanon.
It is believed to have been occupied first between 8800 and 7000 BC, and according to fragments attributed to the semi-legendary pre-Homeric Phoenician priest Sanchuniathon, it was built by Cronus as the first city in Phoenicia. It is one of the cities suggested as the oldest continuously inhabited city in the world. And the site has been continuously inhabited since 5000 BC.
It is a UNESCO World Heritage Site. Gubal was a Canaaniteee city during the Bronze Age, at which time it also appears as Gubla in the Amarna letters. During the Iron Age the city is called Gebal in Phoenician and appears in the Hebrew Bible under the name Geval (Hebrew:).
It was much later referred to as Gibelet , during the Crusades. The city's Canaanite/Phoenician name GBL , i. Can be derived from gb , meaning "well" or "origin", and El , the name of the supreme god of Byblos' pantheon. The present-day city is known by the Arabic name Jubayl or Jbeil , a direct descendant of the Canaanite name.
However, the Arabic name is most likely derived from the Phoenician word GBL meaning "boundary", "district" or "mountain peak"; in the Ugaritic GBL can mean "mountain", similarly to Arabic jabal. The Ancient Greek , whence we get our Byblos , was the interpretation of Gubla/Gebal. Papyrus received its early Greek name (bublos) from its importation to the Aegean through this city.
The Ancient Greek words , diminutive (biblos, biblion), plural , diminutive (bibli, biblia), and ultimately the word "Bible" "the (papyrus) book" hence the Holy Bible, derive from that name. Byblos is located about 42 kilometres (26 mi) north of Beirut. It is attractive to archaeologists because of the successive layers of debris resulting from centuries of human habitation. It was first excavated by Pierre Montet from 1921 until 1924, followed by Maurice Dunand from 1925 over a period of forty years.
The site first appears to have been settled during the Pre-Pottery Neolithic B period, approximately 8800 to 7000 BC. Neolithic remains of some buildings can be observed at the site. According to the writer Philo of Byblos (quoting Sanchuniathon, and quoted in Eusebius), Byblos had the reputation of being the oldest city in the world, founded by Cronus. During the 3rd millennium BC, the first signs of a town can be observed, with the remains of well-built houses of uniform size. This was the period when the Canaanite civilization began to develop. World-renowned expert numismatist, enthusiast, author and dealer in authentic ancient Greek, ancient Roman, ancient Byzantine, world coins & more. Ilya Zlobin is an independent individual who has a passion for coin collecting, research and understanding the importance of the historical context and significance all coins and objects represent. Send me a message about this and I can update your invoice should you want this method. Getting your order to you, quickly and securely is a top priority and is taken seriously here.
Great care is taken in packaging and mailing every item securely and quickly. What is a certificate of authenticity and what guarantees do you give that the item is authentic? You will be very happy with what you get with the COA; a professional presentation of the coin, with all of the relevant information and a picture of the coin you saw in the listing. Additionally, the coin is inside it's own protective coin flip (holder), with a 2x2 inch description of the coin matching the individual number on the COA.
Whether your goal is to collect or give the item as a gift, coins presented like this could be more prized and valued higher than items that were not given such care and attention to. When should I leave feedback? Please don't leave any negative feedbacks, as it happens sometimes that people rush to leave feedback before letting sufficient time for their order to arrive. The matter of fact is that any issues can be resolved, as reputation is most important to me. My goal is to provide superior products and quality of service. How and where do I learn more about collecting ancient coins? Visit the Guide on How to Use My Store. For on an overview about using my store, with additional information and links to all other parts of my store which may include educational information on topics you are looking for. The item "BYBLOS Phoenicia 400BC Silver Shekel Authentic Ancient Greek Coin NGC AU i66895" is in sale since Tuesday, May 15, 2018.
This item is in the category "Coins & Paper Money\Coins\ Ancient\Greek (450 BC-100 AD)". The seller is "highrating_lowprice" and is located in Rego Park, New York. This item can be shipped worldwide.
Culture: Greek
Coin Type: Ancient
Denomination: Shekel
Certification: NGC
Composition: Silver
Material: Silver
Grade: AU
Certification Number: 4625114-006

---