Collectors Set 1977 Silver Jubilee Boxed, NGC 6P, 4 Historical Coins QEII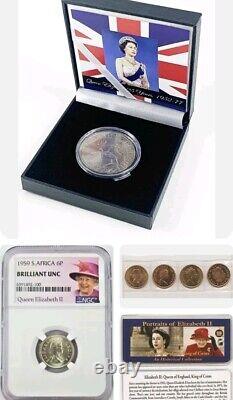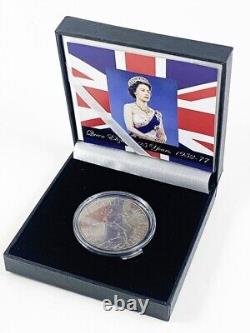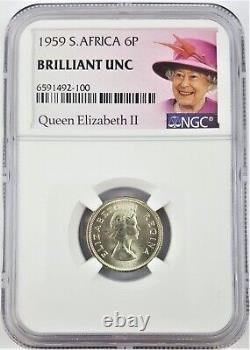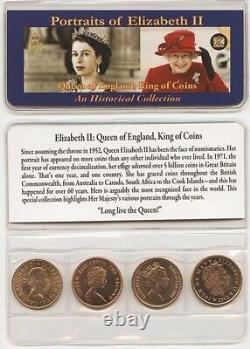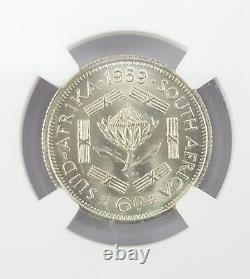 This is a beautiful, Commemorative, and historical keepsake set of genuine & authentic coins. South Africa KM48 6 Pence - 1959 NGC BU(BU). Iconic Gillick portrait on silver 6 pence of South Africa. Scarce date 1959, graded BU with the special commem label. Nice gift for queen lovers.
Queen Elizabeth II, Silver Jubilee Crown (1977) (Black Box). Elizabeth II is the longest-lived and longest-reigning British monarch, the longest-serving female head of state in world history, the world's oldest living monarch, longest-reigning current monarch, and oldest and longest-serving current head of state. When her father died in February 1952, Elizabeth, then 25 years old, became Head of the Commonwealth and Queen regnant of seven independent Commonwealth countries. Significant events have included her coronation in 1953 and the celebrations of her Silver, Golden, and Diamond Jubilees in 1977, 2002, and 2012, respectively. In 2017, she became the first British monarch to reach a Sapphire Jubilee.
This is a commemorative crown from her Silver Jubilee in 1977. Queen Of England Four Historical Coins (Mini Album). Since assuming the throne in 1952, Queen Elizabeth II has appeared on more coins than any other individual who ever lived-and it's not even close.
She has graced coins throughout the British Commonwealth, from Australia to Canada, South Africa to the Cook Islands-and this has happened for over 60 years. The coins in this special set are: Falkland Islands KM-3a, Gibraltar KM-21, Great Britain KM-896, and Isle of Man KM-1037.

---